Wholesome Blend Naturally Fresh Large Breed Chicken & Duck
Chicken & Duck Large Breed Dog Recipe
Specially formulated for large breed dogs with added support for joint and bone health, this hearty recipe uses fresh chicken and duck, and pre and probiotics to support optimal digestive function for your dog and includes support for dental and oral health.
Available in 13kg (28.6lb) bags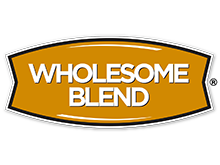 High quality ingredients for high quality nutrition
Our Wholesome Blend Naturally Fresh diets provide high quality nutrition for your dog or cat that uses only the best fresh ingredients including 100% non-rendered meats. Each formula is complete and balanced by our team of companion animal nutritionists with added oral support to aid your pet's overall health.
Contact Us
Have Questions? Get in touch!
We are always here to answer any questions you have around your pet and their health and nutrition
Stay in the know.
Visit to our blog to stay up to date on the latest news.