If you love to camp, you probably want to bring your four-legged companion with you. Camping is a great way to strengthen your bond with your pup by introducing them to a new experience, keeping active, and encouraging trust in a new landscape. Luckily, camping with a dog doesn't have to be stressful and can be a lot of fun once your dog has adjusted to the camping environment.

Today we are sharing 5 tips for summer camping with your dog!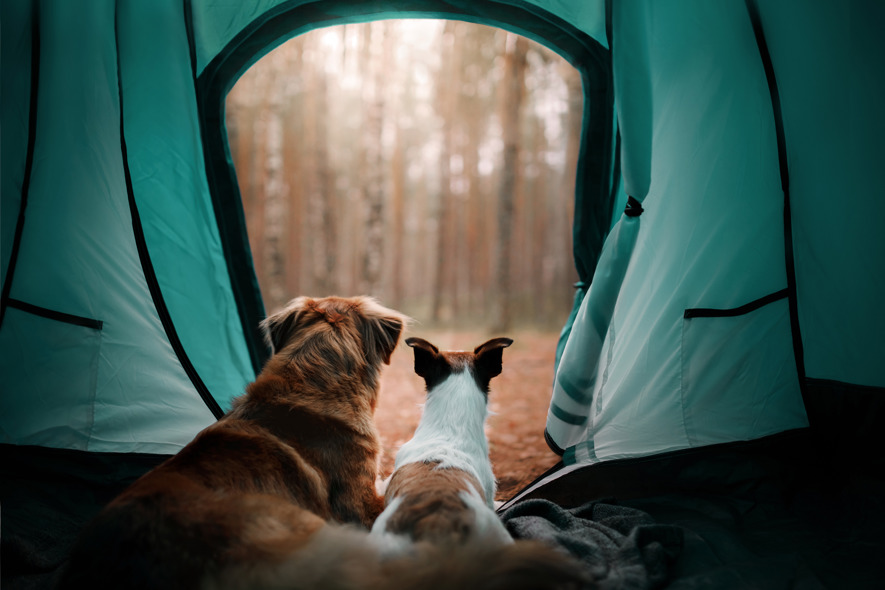 1. Have a low-commitment trial run:
If this is your first camping trip with your pup, consider a trial run (such as backyard camping with your dog and friends). This allows you to assess your dog's behaviour in a controlled environment and plan for the real thing! If your dog is not comfortable the first night, you can easily head back indoors and try again another time. An area such as a backyard is a place that your dog may be more familiar with and allows you to ease into other camping aspects such as sleeping in a tent with your dog.
2. Always pack the essentials.
Ensure that all essentials are packed for your dog. Items such as toys, a dog bed or comfy spot for your dog to sleep in your tent, a bowl for water, treats, food, and doggy bags will all be needed throughout your camping trip. It will also be important to pack safety items such as a leash, dog ID, and a pet first aid kit.
3. Choose dog-friendly campsites.
Always choose a dog-friendly campsite. You want to pick a spot where your dog can run, explore, and maybe even swim. It is also important to know that some camping sites may not allow for dogs to stay or may not be suitable. Make yourself familiar with the rules of the campsite before your trip. Some campsites allow dogs, but they must be leashed all the time.
4. Plan ahead.
Fun activities with your dog can include hitting the trails, visiting the beach, and exploring local parks while you camp. Similarly, many sites and activities nearby book up quickly during the summer season and may need to be planned for in advance. Planning activities ahead will help you pack all the items that you will need.
5. Stay safe.
Watch out for wildlife and don't let your dog drink from stagnant water or lakes, as they can be infected by blue-green algae. Use your packed pet first aid kit as needed!
We hope that this summer you can have many successful camping trips with your pup and that you make great memories together!